The
best way

to connect and interact with your website visitors

Used by over 10,000+ websites to get more sales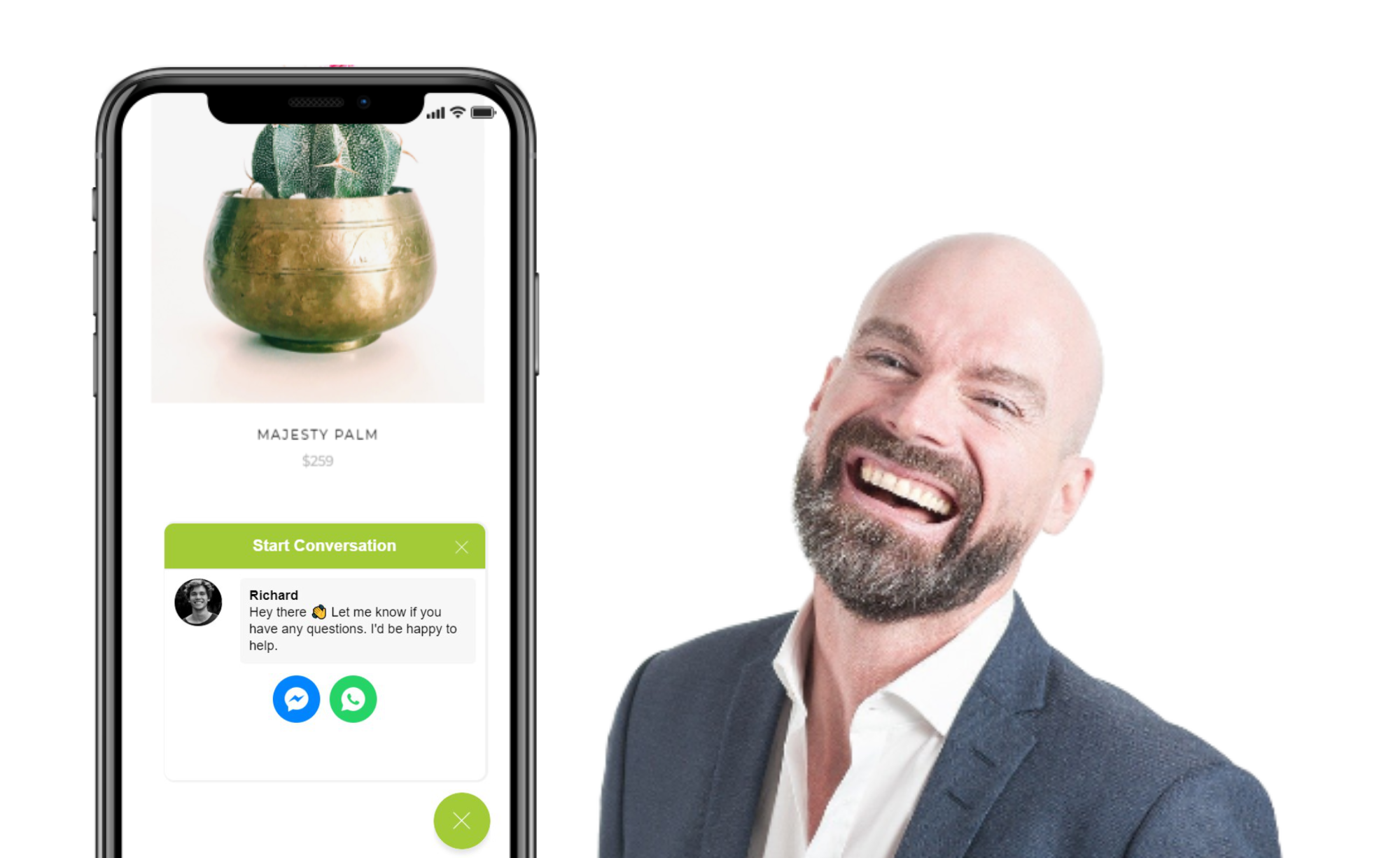 Designed for All Websites
ChatFlow.io can work right out from the box. Install on WordPress or any websites in minutes by simply copying and pasting a code snippet.
No learning curve required. It supports all the Messaging Apps that you are already familiar with:
Facebook Messenger

WhatsApp

Email

Phone Call
Setup takes few minutes flat. What are you waiting for?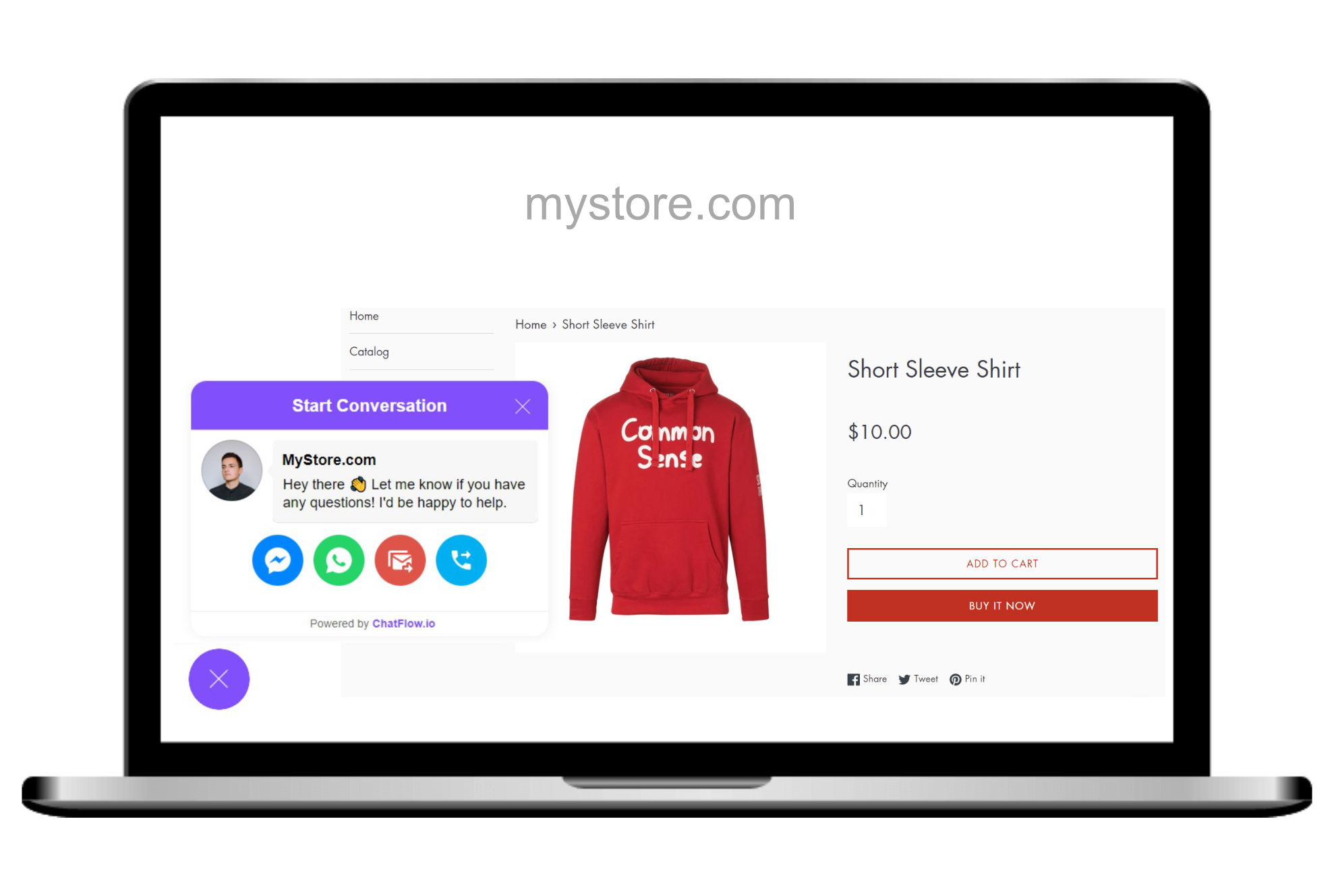 05/01/2020
It's excellent
Vladimir
Web Developer, Setec Wholesale
05/03/2020
This software was easy to use, and navigate and embed to a company website without a hassle. Integration with Facebook Messenger.
05/01/2020
Simplicity to use, Easy to customize
Muhammad Ayoub
Frontend Web Developer
05/11/2020
Easy to use with good features, Good that there are multiple platforms available.
Joanna Ellen
Graphic Designer, Publix
Join 10,000+ businesses already using ChatFlow.io



Frequently Asked Questions
1. Do I need to register an app with Facebook/WhatsApp
No, you do not need to register additional app in order to install the chat widget. You just need to install a short embedded code into the BODY of your website.
2. How many sites can I install?
There's no domain limitation for the Free Plan. For Pro Plan, 1 domain (www and non-www) is supported for 1 activation key. There is no limitation on the number of pages/visitors/views. You can still use the same embedded code for your other domains, it will simply switch to the FREE version automatically.
3. What payment methods do you offer?
We accept all major credit and debit cards through PayPal and Stripe. Google Pay and Apple Pay will be available for supported devices. The activation key will be emailed to you immediately upon purchase.
4. Can it support other languages?
Yes, if you get the PRO plan, you can customise the texts and headers.
5. Do you offer special plan for Non-Profit Organisations and Students?
6. Are you compliant with Facebook and WhatsApp?
Absolutely! We use official APIs from Facebook's and WhatsApp's to make this chat widget work.
7. Can I request a refund if I am not satisfied with the PRO version?
Yes, you can. Your purchase comes with a 14-Day Money Back Guarantee.
8. What sites are not allowed?
Sites that infringe any copyright, trademark, patent, trade secret, or other proprietary rights of any third party information; contain nudity, pornography or other content deemed adult related; profess hatred for particular social, ethnical, religious or other group; contain viruses, Trojan horses, worms, time bombs, corrupted files, or any other similar software or programs that may damage the operation of a computer or a person's property; contain warez; contain any kind of proxy server or other traffic relaying programs; promote money making schemes, multi-level marketing or similar activities; contain lottery, gambling, casino; contain torrent trackers, torrent Portals or similar software; violent or encouraging violence. We reserve the rights to ban these sites from using our services without notice.